Collaborative Solutions | Diversity Employer
www.collaborativesolutions.com/
Why Collaborative
A Full Service Finance & HR TRANSFORMATION CONSULTANCY with Locations Around the Globe


Finance, HR, and Student Cloud Transformation Consultancy
Collaborative Solutions, a Cognizant Company, is a leading global finance and HR transformation consultancy that leverages world-class cloud solutions to help deliver successful client outcomes for Fortune Global 500 companies, large- and medium-sized organizations across industries. As the longest-tenured Workday Services Partner and client, their full lifecycle services—complete with an in-house Advisory Services practice and proven proprietary tools—have helped more than 1,000 clients transform their businesses. Collaborative Solutions has deployed in over 125 countries and has experience with organizations ranging from 200 to 200,000 employees.

Since 2003, we have focused on delivering above and beyond expectations for our clients by applying industry best practices, disciplined guidance, flexible approaches, and the most skilled and experienced talent to each effort. We pride ourselves on our innovative technical tools and programs, including our INTEGRATION FACTORY® and Accelerated Cloud Deployment Center cloud computing interface services, which focus on efficient integration development and, and our truly "collaborative" consulting approach, which allows us to transform our clients' operations and improve their stakeholders' experiences. We strive to make each client experience uniquely positive, and each outcome consistently successful.

OUR VALUES:
PEOPLE - We believe in our people. Werespect and value all individualsfor their diverse backgrounds,experiences, styles, approaches,and ideas.
COLLABORATION - We believe we are bettertogether. Incredible things areachieved through teamworkand collaboration.
KNOWLEDGE - We have an unending desire to grow and deepen our consultative expertise. We pride ourselves on being continuous learners and are always ready, always accountable, and always helpful.
BALANCE - We believe the best outcomes exist when priorities complement rather than compete with each other. We strive for synergy between our personal and professional lives.
INTEGRITY - We are guided by this simple principle: Do the right thing. We take responsibility for our own actions and are true to our word.

Join Team Collabie
Are you looking for a career where the opportunities for advancement rise as high as your ambition? Do you want to work in a fast-paced environment that's constantly evolving to meet the business needs of tomorrow, where you'll be surrounded by talented professionals who are passionate about what they do? Join Team Collabie!

Join Our Award-Winning WORKPLACE
Collaborative Solutions is an innovative, technology-focused consultancy with an award-winning culture. Even through tremendous growth in recent years and an acquisition into the Cognizant family of companies, we foster a culture of inclusion and belonging for employees through programs like our Watch why women of Collaborative are excited to have been named a Fortune "Best Workplace for Women", view our Glassdoor page that shows employees' candid reviews and ratings of their work experience, or watchour Realistic Job Preview for Consultants to see if our consulting roles might be a good fit for you!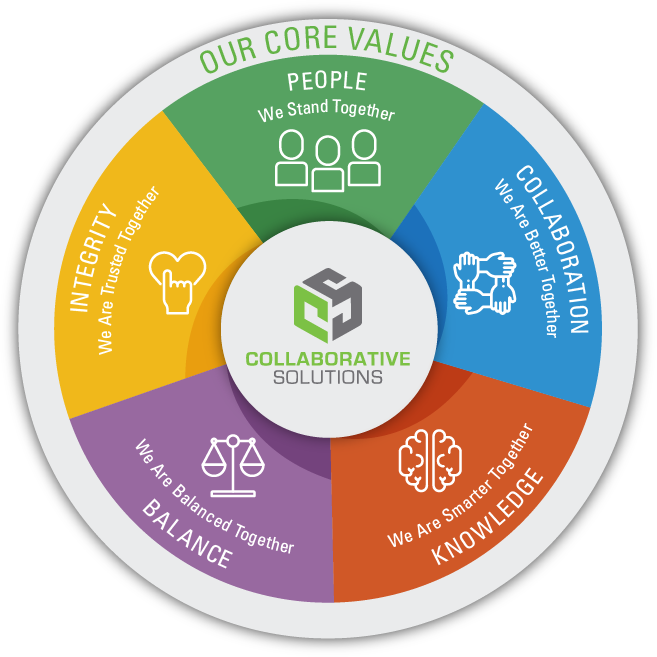 Our Core Values
Collaborative Solutions lives by its Core Values. These include People, Collaboration, Knowledge, Balance, and Integrity. Whether we're working with colleagues, clients, future Collabies, or partners, these values guide every action we take. Learn more about our values here.

Our Employee Value Proposition
Collaborative doesn't just offer competitive compensation and benefits, our culture is a supportive environment that promotes our core values and a strong work-life balance. Here are some reasons you'll love working at Collaborative:
Open, transparent lines of communication with leadership through Town Halls, internal newsletters, and monthly small group conversations with a member of the executive team
Opportunities for learning and development through established corporate programs, on and off-site trainings, and on-demand online learning courses
A people-development focused environment where you have autonomy to drive your career path
Established Employee Resources Groups (ERGs) that provide a safe space for employees to build relationships, connect, and develop initiatives to enhance diversity and inclusion
Committed to giving back to improve our communities and environmental impact
Generous paid time off, including balance days, flexible work arrangements, and options to work remotely or out of one of our office locations to cultivate personal and professional balance
Search among Collaborative Solutions jobs