Porsche Cars North America | Diversity Employer
www.porsche.com/usa/
Porsche Cars North America, Inc. (PCNA), based in Atlanta, Georgia, is the exclusive importer of Porsche vehicles for the United States.

Established in 1984, it is a wholly-owned subsidiary of Dr. Ing. h.c. F. Porsche AG, which is headquartered in Stuttgart, Germany. PCNA employs approximately 300 people who provide Porsche vehicles, parts, service, marketing and training for its 189 dealers. They in turn, work to provide Porsche customers with best-in-class experience.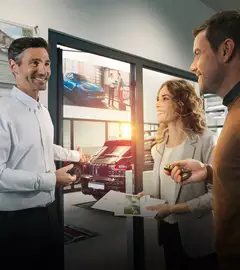 Throughout its 65-plus year history, Porsche has developed numerous technologies that have advanced vehicle performance, improved safety and spurred environmental innovations within the automotive industry. The company continues to celebrate its heritage by adding to its long list of motorsports victories dating back to its first 24 Hours of Le Mans class win in 1951. Today, with more than 30,000 victories, Porsche is recognized as the world's most successful brand in sports car racing.

Porsche Motorsport North America provides racing assistance, parts and service from their home base in Southern California. Porsche Logistics Services, LLC provides parts distribution from Ontario, CA and Atlanta, GA.

In October 2009, PCNA also officially opened a new Northeast Regional Support Center that was awarded a prestigious LEED Gold Certificate for being built and operated with a level of environmental sensitivity. The 300,0000 sq. ft. building is the only one to receive this honor in the northeast area it is located (Easton, Pennsylvania). The environmentally conscious initiatives in the U.S. also include other facilities. In 2009, Porsche's Logistic complex in Ontario, California began to employ solar power, saving 50,000 pounds of CO2 each year.

In January of 2015 PCNA moved to its new North American headquarters located in the southern metropolitan district of Atlanta, Georgia, this one-of-a-kind facility showcases a commitment to both design and functionality and serves to provide an incomparable experience among all other automotive brands in the world. Beyond its captivating architecture, headquarters is also home to an industry first in North America -- The Porsche Experience Center, which invites customers, business partners and brand enthusiasts to celebrate every aspect of Porsche. The Porsche Experience Center, which features a module-based 1.6 mile driver development track, includes a Driving Simulator Lab, Porsche Driver's Selection Store, Carrera Café, and Restaurant 356 for the ultimate fine-dining experience. The venue is also home to Human Performance Center, Business Center, Classic Car Gallery and Restoration Center and the Porsche Exclusive – Personal Design Studio.

Shared Principles
Our company believes that the employees have to be as enthusiastic about their jobs as Porsche owners are about their cars. This enthusiastic work ethic is displayed through three main shared principles: we are dedicated to our customers, we respect each other, and we are loyal to Porsche, the heritage and the brand.

Careers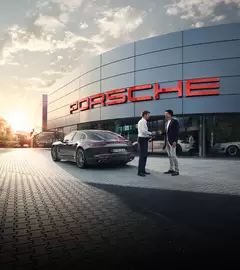 Wherever you have come from, we're ready for you
Porsche has always been centered on performance – from its groundbreaking engineering history to its future of innovation, Porsche is an icon because of its people. Become part of the Porsche mystique.

At Porsche Cars North America, we thrive on a foundation of precision engineering fueled by the American entrepreneurial spirit; we carry on the vision of our founder, Ferry Porsche, by delivering impassioned experiences as legendary as the cars we build, and we do it every day. We are fueling Porsche Passion as an unprecedented brand built on the idea that we are better together as a diverse and gifted workforce united in the desire to be the world's most aspirational brand and most empowering employer. As an extension of the Porsche family, each of our team members brings a unique perspective and master craft to our workforce. We boast the brightest engineers, brand builders and marketing minds, business development leaders, analytical aficionados and corporate professionals in the automotive business – not because we want to lead our industry in performance and customer satisfaction, but because we do.

Refer to the Porsche Job Locator for current vacancies within Porsche North America companies and our international subsidiaries. Manifold possibilities exist for your entry into Porsche - be it as an intern, a new graduate or an experienced professional. We offer opportunities in Atlanta for diverse employees, ranging from automotive and marketing to distribution, and career development and advancement.
Search among Porsche Cars North America jobs
Customs and Trade Compliance Analyst
Atlanta, Georgia
TasksTasks Position overview The Customs & Trade Compliance Analyst is responsible for the day-to-day operations of trade compliance with applicable corporate and divisional policies and procedures as it relates the importation of vehicles,...
2d
Senior Software Engineer - iOS
Atlanta, Georgia
TasksTasks Position Objective We are looking for an experiencedSeniorSoftwareEngineerwho cares about deliveringcutting-edgesoftwareandis passionate abouttechnology that drives digital excellence. Our Mission is toprovidethe best-in-class, l...
2d
Associate Partner - Life Science
Atlanta, Georgia
TasksTasks Join Porsche Consulting, Inc. We bring together people from different backgrounds and experiences and motivate them with a great power of conviction. Our aim is always to take our clients and ourselves further than expected. This...
2d
Software Developer Data Analysis
Los Angeles, California
TasksTasks Participate in projects for IoT and data-driven development of vehicles and customer features Creating schedules for software feature integration and bug fixes based on project requirements Planning of technical requirements for ...
2d
Atlanta, Georgia
TasksTasks Sales Finance License Compliance and Audits: Maintain license files, process license renewals, and obtain new licenses for all PFS group entities, as needed. This will require the Corporate Licensing Manager to be a subject matte...
2d
Atlanta, Georgia
AufgabenAufgaben Position overview As an Interaction Design Intern you will work alongside the UX Strategist to assist the Customer Experience Department with critical path 2024 initiatives that support building exceptional user experiences...
2d
Finance, Data Intelligence & Analytics Internship
Atlanta, Georgia
TasksTasks Assist with monthly financial reporting and month-end close duties. Run ad-hoc queries as necessary assisting various PFS departments with data gathering and extracts for internal/external contacts. Provide analytical support to ...
2d
Atlanta, Georgia
AufgabenAufgaben Position overview Provide independent and objective assessment of business processes at PCNA and at all other North American Porsche entities (NA Porsche group companies) within the scope, reporting to the Senior Manager, N...
3d
Atlanta, Georgia
AufgabenAufgaben International candidates accepted Assignment duration: March 04, 2024 - September 06, 2024 Position Objective Porsche Cars North America Internship opportunities are designed to promote both career development and functiona...
5d
Senior Regulatory and Legislative Compliance Engineer
Atlanta, Georgia
TasksTasks Position overview The Senior Regulatory and Legislative Compliance Engineer ("Senior Engineer") is responsible for providing internal expertise and support on current and future US Federal and State motor vehicle and motor vehicl...
5d